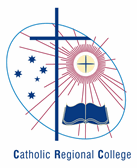 Catholic Regional College Sydenham was founded in 1982 as a Catholic senior school for students in the West of Melbourne. It is the largest of its kind in Victoria, specialising in VCE, VCAL and VET studies. In 2011 the Trade Training Centre opened on the College site further enhancing the opportunities for students throughout the region.

The school is a part of the Catholic Regional College Federation of schools encompassing 7-10 Colleges at St Albans, North Keilor and Caroline Springs as well as Years 7-12 at Melton. The founders of the school understood that in building a specialist senior campus, students would benefit from having specialist teachers and the widest range of subjects offered.
A student's destination or chosen pathway is the most important aspect of education at Catholic Regional College Sydenham. We cater to those wishing to undertake a higher education degree, complete a TAFE certificate, participate in  an apprenticeship and those looking to transition into full time work.  The motto – "Every Student Every Pathway" is what the school strives to achieve in ensuring that pathways and goals are achieved. Our dedicated, experienced and highly skilled student services and careers team are the crucial link in ensuring student success.
Catholic Regional College Sydenham is a community dedicated to educating the whole person. We work in partnership with parents to develop young men and women who are open to growth, committed to their faith and social justice, and who are religiously and intellectually competent. When our students and graduates demonstrate these characteristics, practicing them in their daily lives, the school community can be proud in the knowledge that it has served them well.
The College, its staff and students, has continued to renew its commitment to excellence in Catholic education as we continue to embark on a new era of faith, seeking and understanding.
Faith – Catholic Regional College Sydenham is a community committed to the expression of its Catholic Faith on a daily basis;
Seeking – education at the College encourages each student to develop and pursue a love of learning no matter what their chosen pathway;
Understanding – a graduate from the College in this new era will understand that their education has equipped them with knowledge and skills to make a difference in their community and in Australia.
Catholic Regional College is a school which operates with the consent of the Catholic Archbishop of Melbourne and is operated and governed by Melbourne Archdiocese Catholic Schools Ltd (MACS). MACS governs and operates 292 Catholic schools in the Archdiocese to continue the mission of Catholic education to proclaim the Good News and equip our young people with the knowledge, skills and hope to live meaningful lives and enrich the world around them. Because the good work of educating the young is a co-responsible task led by every member of the Catholic school community, School Advisory Councils have been established to provide a crucial point of connection between the wider school community and school leaders. This governance model was designed to ease the administrative burden on our schools and parishes, allow parish priests to focus on the mission of education in the parish, enable greater collaboration between schools and ensure greater consistency in school policies and procedures. More information on MACS is available at www.macs.vic.edu.au.